James B. Sanderlin – Judge
James B. Sanderlin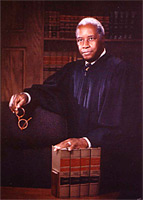 James B. Sanderlin was born January 2, 1929 in Petersburg, Virginia. His father was a baptist minister while his mom was a school teacher. Compared to other black children in the 1930s Sanderlin had a privileged life growing up. His parents were both educated and the family lived in a white middle class neighborhood. The children of the family attended an African American private school, as education was very important in the Sanderlin family.
Even as a little boy Sanderlin knew he would practice the law. He was inspired by his parents who instilled positive christian values in him, and also showed him the importance of contributing to society. His parents would often share stories of positive black figures such as Frederick Douglass, W.E.B. Du Bois and Sojourner Truth.  As James and his brother grew older, the neighborhoods became less friendly and the family decided to move to Washington D.C.
After finishing high school in D.C. Sanderlin went on to complete his undergraduate at Howard University in 1950. After graduating, he worked odds jobs while taking a hiatus from school. He worked as a helicopter repairman and at his brothers fish market, that opened after graduating from Howard University with his MBA. Sanderlin went back to go to receive his masters from Howard in political science in 1957. While in graduate school, Sandelin worked to pay for his education. Doing this work he began to realize the inequalities whites and blacks faced both financially and socially. This drove Sanderlin to attend law school and eventually fight for a change. Sanderlin went on to attend Boston University Law School in 1958. After graduation he began to work with a lawyer that recruited him while searching the country for the best law graduates. Sanderlin clerked for him until he passed the Florida Bar in 1963, and began to get involved in the local civil rights movement.
James B. Sanderlin formed his own law firm a short time after graduation with attorneys Frank White and Frank Peterman, Known as White, Peterma, and Sanderlin, P.A, located on 22nd Street South in St. Petersburg, Florida. The firm was not successful at first, because during this time many citizens were still unsure of black attorneys.
At this time, Pinellas County schools were still segregated and this was the first thing Sanderlin wanted to change. But many people were against him on the idea. Sanderlin received threats to home about his life, but this did not scare him away from trying to make the change. Over the next ten years, Sanderlin persevered and desegregated not only Pinellas County Schools, but Hillsborough and Sarasota counties also.

Sanderlin represented over 200 city sanitation workers who were on strike for better working conditions.  The city fired the workers, and they decided to take the case to James B. Sanderlin. Sanderlin got 86 of the 211 workers jobs back as well as got their working conditions better.
On September 12, 1972 James B. Sanderlin became Pinellas County's first black judge. After spending three years as a county judge, he decided to run for Circuit Court of Pinellas and Pasco County. In 1976 Sanderlin was elected and became the first black Circuit Court judge.
January 2, 1986 Sanderlin was appointed judge on the Florida District court, and became the first black judge elected. Many of his colleagues knew him as compassionate, funny and willing to listen to what someone has to stay while in the  courtroom.
James B. Sanderlin is honored in St. Petersburg, FL with an Elementary school names after him. James Sanderlin Elementary is located in South St. Pete at  2350 22nd Ave South, St. Petersburg. He also has a family center in his name. This center focuses to bring the south St. Pete community together. It offers GED classes, and a safe space for children to spend their time. This center also offers classes for every age of the family to help them learn and grow.